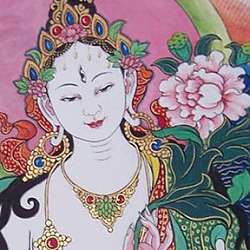 Online Offering - The Wish-Fulfilling Practice of White Tara
with Matthew Lyon
The ancient practice of Tara was transmitted by the Buddha, and it has passed down to us from an unbroken lineage of teachers over these many centuries. Tara is the embodiment of love and compassion, and as an emanation of enlightenment, she imbues these qualities with power.
In Tibetan Buddhist teaching, Tara manifests in many forms and colors. White Tara is particularly associated with realizing primordial wisdom and with removing obstacles to health and long life. She is depicted as holding the Wish-Fulfilling Wheel in her heart, and through connecting with her it is said that we can realize our beneficial desires which have integrity of purpose. She has the ability to enter our life events with real influence.
In doing the practice of Tara, we identify ourselves with her enlightened qualities and invoke her energy of protection to overcome obstacles to spiritual and physical health. In this way, her practice is especially meaningful in this time of crisis.
Please join us for a group Zoom session of White Tara practice on Saturday, June 6th, at 10:00 AM.
This will be open to practitioners at all levels of experience. When you register please let us know if you will be practicing White Tara for the first time or, if you are familiar with the White Tara Practice, for how long have you been doing this practice. This will help Matthew create his talk and develop discussion questions.
The White Tara text will be shared with participants on their zoom screen.
Matthew Lyon will provide an introduction and a commentary on the practice, and will lead a guided version of the White Tara practice. Afterward, there will be an opportunity for questions and discussion. Matthew has been studying and doing the Tara practice in different forms for over 20 years, having received transmissions from several lineage holders. He has served for many years as a senior teacher in the Shambhala tradition, recently retiring from the position of Shastri.
As Khenpo Karthar, Rinpoche has said:
"To reach the pinnacle of good health, quality of life, we need to develop our innate inner potential as well. The existence of a human being is dependent upon his or her life force. It must be active. This depends not just on being cared for physically or outwardly, but upon our inner state as well.
From among the various types of Dharma practice, White Tara is especially effective in realizing longevity on this level….in addition, by practicing White Tara, we can clear away the obstacles in other people's lives that stand in the way of their experiencing long life and good health. In that way we can help them achieve longevity as well."
This class will take place online using Zoom software! Please register at least 24 hours in advance to receive the login information.
Questions? Contact Sydney at [email protected].