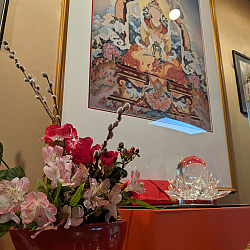 ONLINE OFFERING - Thursday Evening Community Practice
On Thursday, March 19 we will dedicate our evening open house to online instruction and practice of tonglen. This practice, from the wisdom tradition of Tibetan Buddhism, is a method for connecting with suffering and awakening our strength and compassion so we may be of benefit. Many people have been requesting practices that are beneficial during this pandemic crisis. Like many practices, its benefit is often enhanced when done in community.
This session is open to all who would like to learn or strengthen their tonglen practice. It's recommended that participants have established a basic meditation practice to get the most from this session. If tonglen is new to you, you can read this short article by Pema Choödrön.
Due to the contemplative nature of this session, please help us hold a strong container by being mindful of the timing of your arrival as well as the decorum you bring to the online experience. Treat this virtual environment as sacred space.
Schedule:
6:15 - 6:30 Arrival for those who want shamatha meditation instruction and are less familiar with Zoom
6:30 - 7:00 Meditation Instruction
7:00 - 7:10 Transition Time (Arrival for those coming after the meditation instruction)
7:10 - 8:30 Tonglen Instruction and Practice; Q&A
Since we are pioneering virtual offerings we are bound to have technical hiccups, so bring your patience and sense of humor.
Join here: https://zoom.us/j/360979520
You can also dial in by phone with the information below. Dial in participants will only receive audio and only be able to broadcast audio.
One tap mobile
+16699006833,,360979520# US (San Jose)
+16468769923,,360979520# US (New York)
Dial by your location
+1 669 900 6833 US (San Jose)
+1 646 876 9923 US (New York)
Meeting ID: 360 979 520
Find your local number: https://zoom.us/u/adcszEZv0l
New to Zoom? For a quicker entry to the program, download the free software here. If you do not have the software you will be asked to download it when you click the link to join above. It's best to download and test Zoom before the session. You do not need to download any software to dial in by phone.
Technical Advice and Decorum Notes:
In order to create smoother virtual arrivals, your camera and audio will be turned off when you enter Zoom. Once you are settled, you can turn your camera on. During the discussion, we ask that you stay muted until you'd like to speak.
If possible, get and use a headset with headphones + microphone (this is helpful, but not required).

If you are using your smartphone or similar device, use reliable wifi rather than your data plan (unless data is more reliable for you).

Use video and plan to be seen by others (not just audio) - if possible. If you have weak wifi/data, turning video off will help.

Put your screen/camera at eye level so you can sit up straight and not hunch over.

Treat the call as you would the shrine room: for example, plan not to get up and get water during the instruction and practice.

Sit in a room where you can close the door; if that's not possible, please ask those in your home to give you space for the duration of the session.

Be open to the possibility of intimacy and community at a distance!
Questions? Reach out to us at [email protected] for technical assistance or program questions.