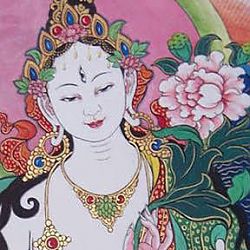 Sunday Morning White Tara Practice
with Acharya Christie Cashman
You are invited to a special practice session with Acharya Christie Cashman on Sunday morning March 8th from 9:45 to 12:00 noon in which she will lead our community in the practice of White Tara. This practice is open to all and will join the Vajrayana community with the wider seattle Sangha to receive these teachings. White Tara is a mother lineage practice that contains the warmth and stability necessary to hold individuals and communities in times of great difficulty. White Tara is the famed female Buddha who embodies the energies of healing, compassion and tranquility. Together we will explore these energies, understanding that they are fundamentally inseparable from our own nature.
These teachings and practice replace the usual Open House format of sitting meditation and discussion and are offered for our whole community of practitioners. If you are an Open House participant, new or longtime student of the Dharma you are invited to join us.
Child care will be provided from 9:45 to 12:00 noon. Please arrive at 9:45 so that you are ready for the talk that will begin at 10:00 AM in the upstairs meditation room.