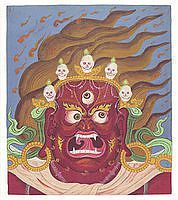 Mamo Chants
The upcoming celebration of Shambhala Day on February 24th and 29th marks the end of one year's cycle and the beginning of a new one. We are encouraged to practice as much as possible in the period (the dön season) just before Shambhala Day. In particular, we are encouraged to recite the mamo chants together in order to purify the karmic causes of personal, social, and environmental chaos that accumulates at year's end. The mamo chant is an elaborate protector practice by which we tune into our inherent openness, awareness and basic goodness; keep our conduct straightforward and kind; pay proper attention to the details of our lives; and reconnect with sacred outlook.
The Dön Season this year is February 13th through February 22nd. During this period, the mamo chants will be practiced every day at the Center starting at 6:30 p.m. The practice is about an hour in length, and is open to the public. The day before Shambhala Day is considered neutral and therefore mamo chants are not done on this day; rather, it is a traditional time to clean and refresh one's home and shrines in preparation for the coming year.
Prerequisites: None (open to everyone).
Location: Seattle Shambhala Center, 3107 E Harrison St, Seattle.
Questions? Contact Sydney at [email protected].