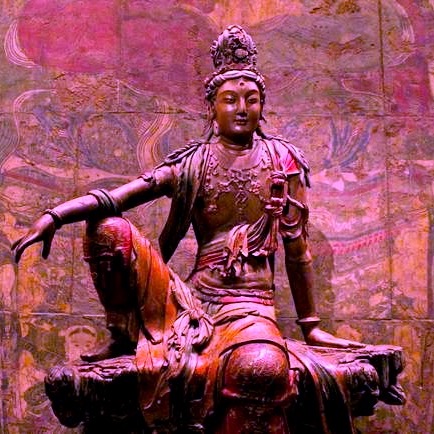 Deepening Compassion: Relative Bodhicitta & The Paramitas [Online]
with Dan Peterson
This is an online program.
Please join us online at the Seattle Shambhala Center for the second course of the four-part Shambhala Online series, Deepening Compassion: The Path of the Bodhisattva Warrior - view here. Each of the four courses include pre-recorded talks taught by Shambhala's very senior teachers and a facilitated discussion led by a local Seattle teacher.
The traditional Mahayana Buddhist teachings are presented in all schools of Buddhism worldwide. The wide-ranging Mahayana path includes the Four Immeasurables—compassion, joy, loving-kindness, equanimity—the Paramitas, Mind-Training/Lojong and the Buddha's teachings on Shunyata or emptiness.
Course Two: Relative Bodhicitta & The Paramitas focuses on the Paramitas. It will include an exploration of Relative Bodhicitta - awakened heart-mind - and how we put our aspiration into action with the practice of the Paramitas, or transcendent virtues as they are called. The Seattle facilitator for this second course will be Dan Peterson.
Participants receive the Shambhala Online recorded talks for independent viewing each week, prior to the local group class, as well as optional reading assignments and contemplation suggestions.
Prerequisites: Either Deepening Compassion Course I: Maitri & the Four Immeasurables OR have familiarity with the fundamentals of Mahayana Buddhist thought and practice. If you haven't taken any of the Hinayana or Mahayana courses with Seattle Shambhala yet, please contact Meli-Tashi Happy 253-906-2200 [email protected]


Class Schedule
This class will meet four consecutive Mondays, break for Labor Day weekend, and then meet once again the following Monday for the fifth and final class. Each class meets from 7-9pm Pacific online starting August 9th:
Monday, Aug 9th - Generosity with Marty Janowitz
Monday, Aug 16th - Discipline with Emily Bower
Monday, Aug 23rd - Patience with Acharya Suzann Duquette
Monday, Aug 30th - Exertion with Acharya Moh Hardin
Monday, Sept 13th - Dhyana: Meditation with John Rockwell


Questions? Please contact Meli-Tashi Happy: [email protected] 253-906-2200.