Contemplative Creativity Lab: Write Where You Are - An Intro to Writing Practice [Online]
with Debra Dysart
What is writing practice? Can writing be a practice much like meditation?
This Contemplative Creativity Lab will give you a taste of what writing as practice is all about. We will use meditation as a portal to the present moment, to help us get below discursive thought to the place where mind is original and fresh. We will engage in periods of timed writing sessions together. Playful and exploratory writing topics will be provided. There will be time allotted for compassionate listening as we share our writing in a supportive environment (without comment or feedback and always optional).
All are welcome! No previous experience in writing or meditation is required. Bring your curiosity along with a notebook or notepad and a couple of fast moving pens.
"Writing practice embraces your whole life and doesn't demand any logical form: no Chapter 19 following the action in Chapter 18. It's a place that you can come to wild and unbridled, mixing the dream of your grandmother's soup with the astounding clouds outside your window. It is undirected and has to do with all of you right in your present moment."
~ From Writing Down the Bones: Freeing the Writer Within, by Natalie Goldberg.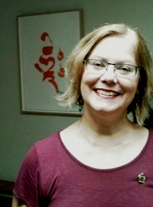 DEBRA DYSART has been a student and practitioner on the Shambhala Buddhist path ever since she found Pema Chödrön's Wisdom of No Escape in a bookstore in 1997. She is a meditation teacher, a Shambhala Art teacher, and has served as Director of Education and Center Co-Director of Los Angeles Shambhala. Debra has studied with Natalie Goldberg and leads occasional contemplative writing practice classes and drop-in sessions at LA Shambhala. She has also been a singer with the Verdi Chorus for 20 years and hopes singing together in groups will be allowed again soon. Debra serves as Secretary on the Verdi Chorus board of directors.
Contemplative Creativity Lab is about engaging the senses, bringing the fullness of our awareness to any activity, and connecting with our world. Everyone is warmly welcome, no exceptions. There is no need for any experience with art or meditation to take part. See more.
This program is a collaboration between Seattle Shambhala and LA Shambhala Centers. Registration is through the LA Shambhala Website.