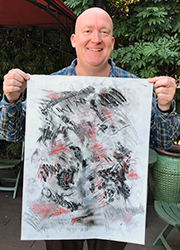 Contemplative Creativity Lab: The Summer of Love Returns
with Joshua Northcutt
Summer is generally a time of Warmth and Heat and getting outdoors. Can we contemplate how to fully make a mark in the natural seasons of our own lives? Can we thaw the ice of the last year that has left too many of a heart/mind frozen and isolated? Is meditation and art a way to renew our love towards ourselves and the world?
In Meditation, the connection to the breath connects us to the present moment. In the same way, each time we make a mark we connect with the moment of now.
In this Contemplative Mark Making Lab, the Group will Practice sitting meditation followed by experiential exercises. No previous drawing or art experience needed. Bring a notebook, pens and pencils.
Recommended Supply list. I do not recommend buying supplies unless participants will promise to use them in the future. :)
Have on hand whatever you can:
-4 or 5 sheets of Paper. Can be 8 1/2 x 11 or larger depending on your space available at home.
-Pens (ink or mechanical)
-Pencils (colored or otherwise)
-charcoal
-conte crayons
-Erasers
-White and Black Acrylic Paint
-Acrylic paint brushes
-Calligraphy brushes and ink
-Sketch book or journal
-Have no painting supplies? You can make marks with rags and sticks with coffee and tea and any condiment (mustard, soy sauce) as your ink. Besides pens and pencils.
Joshua Northcutt has been interested in drawing since an early age. He has been working as a Nurse since 1990's and formally studied art at the University of Hawaii. Has been interested in Buddhism and Meditation for several decades. He's honored and delighted to have trained as a Shambhala Meditation and Shambhala Art Educator.
Contemplative Creativity Lab is about engaging the senses, bringing the fullness of our awareness to any activity, and connecting with our world. Everyone is warmly welcome, no exceptions. There is no need for any experience with art or meditation to take part. See more.
This program is a collaboration between Seattle Shambhala and LA Shambhala Centers. Registration is through the LA Shambhala Website.