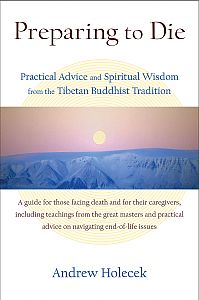 Book Group: "Preparing to Die" by Andrew Holecek
Death is a journey into the unkown, but like any journey, it goes better if you're prepared. -- Andrew Holecek
Preparing to Die offers a clear and compelling explanantion of the Buddhist view and practical instructions on dying, and consequently on living. "A guide for those facing death and for their caregivers, including teachings from the great masters and useful advice on navigating end-of-life issues."
A key instruction in life or death is to join whatever we experience with meditation. But without actually practicing this, it's hard to do. An unwanted experience arises, habitual patterns immediately kick in, and we run from the experience or relate to it poorly. The reverse meditations allow us to replace these bad habits with good ones. When difficult situ­ations arise, wisdom kicks in instead of confusion.
"Preparing to Die," Lion's Roar, Oct. 13, 2017
All are welcome to join this facilitated discussion of the book every two weeks, on Saturdays from 3:30-5:00 PM Pacific.
Please register to receive the Zoom link.