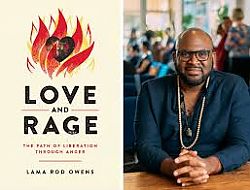 Love & Rage Book Discussion Class Series
with Jesus Garcia
5-Week Love & Rage Book Discussion Class Series.
Anger can be a difficult emotion for many. Sometimes, we turn away from anger. At other times, we wield it as a weapon. In his new book, Lama Rod Owens invites us to face our anger and offers specific practices to learn how to harness it for change. As he puts it, "anger wants to be cared for." When we create space to acknowledge anger, we often find that underneath the anger is a broken heart. Owens suggests we must connect to this heartbreak in an embodied and compassionate way, which will allow us to connect with the liberating potential of anger.
The book gives guidance on a path to liberation by working through anger, rather than avoiding or moving around it. The practices help with working through a range of challenging emotions and experiences, and may be particularly helpful given the context we find ourselves in as we shift from 2020 into 2021.
We will address a range of topics that may surface in connection with the book, including racism and sexism. We will go over agreements as a group for how we ensure the space is one in which we can be productively uncomfortable and respectful of each other's identities and experiences.
We will be donating half of the registration proceeds to Lama Rod Owens. Please keep this in mind as you consider what level you are able to afford.