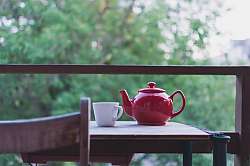 Online Offering - Death Cafe
An unrushed and thoughtful discussion without expectations about all aspects of death, dying and living with the conscious awareness of death.

This is a facilitated group-oriented discussion with no agenda or biases. A time and virtual place for people to share ideas, feelings, experiences, concerns, and to honour death in our lives. The event is not morbid and may encourage us to live our lives fully.

Open and respectful of all; this is not a grief or support group.

We warmly encourage bringing your own version of tea and cake to enjoy.
Hosted by Seattle Shambhala Societal Heath & Wellbeing Terry Jaworski with Tom Gaylord and Robin Willett.
Donations are appreciated and can be made here Donate. Don't forget to include the name of the program you are supporting: A Good Death Conversation.

NOTE: Registration closes Friday at noon.