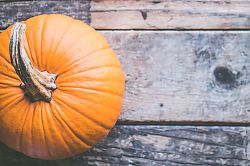 Harvest of Peace Celebration [Online]
Celebrate the changing seasons in community at this year's Harvest of Peace!
All are warmly invited to our annual Harvest of Peace Celebration, one of the official holidays on the Shambhala calendar. This year we will celebrate together on Sunday, September 20th at 3 PM via Zoom.
Harvest of Peace is one of four annual Nyida Day celebrations in Shambhala culture. Each of these holidays mark the changing of the seasons, hence the name Nyida Day (Nyi = sun and Da = moon). Historically, this special day is associated with the feeling of appreciation, the spirit of generosity and sharing the bounty of the season. It's an opportunity for us to gather, enjoy the companionship of sangha, and celebrate the richness all around us. The theme of appreciation includes all of these things, and especially the goodness of our bond as a community at this time.
During this gathering, we will share our appreciation and gratitude for Sydney Munger as she retires as Director of Practice and Education, a role she has held for the past five years. We are pleased to announce that Meli-Tashi Happy will be stepping into this role, taking her oath during the Harvest of Peace gathering. In addition, Janet Bass will be retiring from her Lead Teacher role in Practice and Education. Janet took on this role two years ago when Shastri Lyon retired and Shastri Busby moved. Please join us in expressing our gratitude to both Sydney and Janet and to welcome Meli-Tashi as she takes her seat!
Harvest of Peace is also an important and appropriate time in the yearly cycle to raise funds to support our local Center. There will be a brief local fundraiser request during the online gathering where we will invite people to give what they can, according to their inspiration and abilities.

Join the Zoom Meeting with the link below.
https://us02web.zoom.us/j/85992661577
Meeting ID: 859 9266 1577
One tap mobile
+12532158782,,85992661577# US (Tacoma)
+16699006833,,85992661577# US (San Jose)

You can give to the Harvest of Peace Campaign by making a one-time donation or increasing your monthly donation online. Checks written out to the Shambhala Meditation Center of Seattle can be sent to the address below:
Shambhala Meditation Center of Seattle
3107 E Harrison Street
Seattle, Washington 98112
Please feel free to email our Finance Manager at [email protected] if you have questions and or for assistance with your donation.


We recognized that although these are difficult times for many of us, our community has so much to celebrate. Please bring a beverage of your choice so we may raise a glass together.
We look forward to seeing you there!

Questions? Contact [email protected].