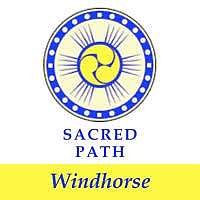 Shambhala Sacred Path: Windhorse Weekend (ONLINE PROGRAM)
with Rachel DeMotts & Dan Peterson
This is the second weekend retreat of the Way of Shambhala Sacred Path series.
The Sacred Path Series brings the principles of warriorship and the practice of mindfulness-awareness into daily life. In particular, it is designed to nurture a natural ability to experience the world as sacred and a shared aspiration to create an enlightened society.
Windhorse
The Vidyadhara's terma text, The Letter of the Black Ashe, is introduced which gives the instruction for "raising windhorse." The practice of windhorse opens the heart and refreshes one's confidence. It is a way to bring about skillful and heartfelt social engagement, enabling the warrior to go forward in the midst of whatever challenges occur.
This weekend program will take place primarily online using Zoom. Participants will need to meet in person for two hours on Saturday morning to receive the transmission and lung. Directions for where and when to meet as well as the zoom link, will be e-mailed to you prior to the beginning of the weekend. Included in these directions will be COVID-19 protocols to be followed to protect you, your teachers and other participants.
Please register no later than Friday July 17th to allow staff and teachers time to plan for this in-person portion of the weekend.
Participants will receive the terma text, "Letter of the Black Ashe" and the Windhorse source book. These materials cost $65 and are included in the overall fee for the program.
If you are able, registering as a patron will help cover the cost for materials for those who may not be able to purchase them. If you can't afford the patron price but would like to support others, you can also use the "pay what you can" option to contribute a different amount above the regular price.
Prerequisites Rigden Weekend
Questions? Contact Sydney at [email protected].