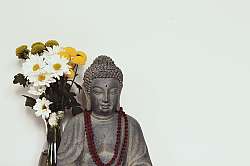 The Second Noble Truth: The Origins of Suffering: The 5 Skandhas -- Foundations for Freedom, Course 2
with Acharya Dale Asrael & John Rockwell
This is an online program.
This summer, the Seattle Shambhala Center is pleased to continue the series of five courses that make up the year long program, Foundations for Freedom, currently being offered by Shambhala online. Each of the Five courses, framed around the Four Noble Truths, will include pre-recorded talks taught by Shambhala's very senior teachers and a facilitated discussion led by a local Seattle teacher.
Second Noble Truth: The Origins of Suffering, Part I: The 5 Skandhas
With Senior Shambhala Teachers Acharya Dale Asrael and Ashe Acharya John Rockwell
This is the second in a series of five courses exploring the profundity of the Hinayana teachings of the Buddha. It is open to all with no pre-requisites
Having recognized the truth of suffering and the confusion that is pervasive in our life, we naturally have questions. How does this state of suffering arise? Where does confusion come from? Our innate intelligence begins to explore the subtle layers of experience, going deeper and deeper until we come to the heart of our being. In this in-depth exploration of the Five Skandhas, we will touch these layers or constellations of experience one by one, starting from the unconditioned, innate ground of open space, and see how we fabricate our own world of projections.
Class 1 Introduction to the second noble truth and how it relates to the five skandhas
Class 2: Skandha of Form - Pre-recorded, with Acharya Rockwell
Class 3: Skandha of Feeling - Pre-recorded, with Acharya Asrael
Class 4: Skandha of Perception - Pre-recorded, with Acharya Rockwell
Class 5: Skandha of Conceptual Formations - Pre-recorded, with Acharya Asrael
Class 6: Skandha of Consciousness - Pre-recorded, with Acharya Rockwell
There will be suggested readings from the following books:
Chögyam Trungpa, Glimpses of Abhidharma (GOA)
Chögyam Trungpa, Cutting Through Spiritual Materialism (CTSM)
ABOUT THIS SERIES
A Year-Long Exploration -- Foundations For Freedom: The Hinayana
In the spirit of "returning to square one"–a favorite expression of the Vidyadhara, Chögyam Trungpa, a group of Acharyas were inspired to offer to the community an in-depth study of the foundational Buddhist teachings of the Hinayana.
This year-long program will provide a thorough and extensive exploration of the Hinayana path drawing on teachings from the Vidyadhara Chögyam Trungpa Rinpoche, Sakyong Mipham Rinpoche, other prominent teachers and classic sources. The emphasis will be on cultivating maitri or friendliness to oneself, and on the Shambhala teachings of basic goodness, gentleness and bravery–allowing us to meet the modern human condition with warriorship and dignity.
The Four Noble Truths are used as the overall organizing principle, with the Four Foundations of Mindfulness interwoven to provide a meditative method for embracing the totality of our basically good experience—including pain and suffering—as our practice and working basis.
As the Vidyadhara said: "Never forget the Hinayana!"
Course 2/ Starts Monday, June 29, 2020
More information regarding accessing the program online will be sent to participants via email closer to the program's start date.
Questions? Reach out to us at [email protected] or [email protected] for technical assistance or program questions.
About the Teachers for Course II
Acharya Dale Asrael became a student of Chögyam Trungpa, Rinpoche in 1973, and has continued to practice and teach within his lineage, leading programs and retreats internationally. She is a Professor at Naropa University, and leads the Naropa University Mindfulness Instructor Training, a year-long program for people teaching meditation in transitional environments.
Ashe Acharya John Rockwell has been on the Shambhala and Buddhist path for 40 years, studying with Chögyam Trungpa Rinpoche and Sakyong Mipham Rinpoche. His main interests are in opening the heart and senses through meditation and qigong and in bringing awareness to everyday life and the natural world.