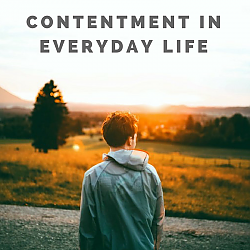 Contentment in Everyday Life: AN ONLINE OFFERING
with Janet Bass & Katie Derthick
Note: This will be an online course using the Zoom platform. Details on how to access the class will be sent to you after you register and before the first class. If you are hesitant to join because of the online aspect, we offer you the option to register and join the first class. If you find that it does not work for you we will fully refund your registration fee.

This course provides an exploration of genuine contentment, the foundational views of the Buddhist teachings, and meditation in action for daily life. With meditation practice, we can learn to appreciate ourselves and simple human experiences, free from self-aggression. Difficult emotions and the challenges of life can be met with gentleness, steadiness, and humor.
This course is part of the "Everyday Life" series of the Way of Shambhala path of training. The course includes guided meditation, talks, and open discussion of the challenges that meditators face in their practice.
The books that are used in this class as the main source of reading assignments are listed below. Please buy or borrow these books prior to the first class if possible:
Shambhala: The Sacred Path of the Warrior
by Chogyam Trungpa
The Sanity We Are Born With: A Buddhist Approach to Psychology
by Chogyam Trungpa
Turning the Mind Into an Ally
by Sakyong Mipham
Ruling Your World: Ancient Strategies For Modern Life
by Sakyong Mipham

Prerequisites: This program is open to everyone, and no previous experience with meditation is necessary.
Location: Seattle Shambhala Center, 3107 E Harrison St, Seattle.
Our Generosity Policy: We have a generosity policy to make our offerings available to all who wish to participate. If the program price is an obstacle for you, please consider what works for you, and offer as much of the program fee as you can. For those who can offer more than the program price, we have a "patron price". Your generosity in offering the patron price helps cover the costs for others who are not able to pay the full price.
Registration: When registering, you'll have the opportunity to pay online through PayPal (or by credit card), which greatly simplifies the process for us. For further details, see our Program Policies and FAQs page.
Questions? Please contact Sydney at [email protected].