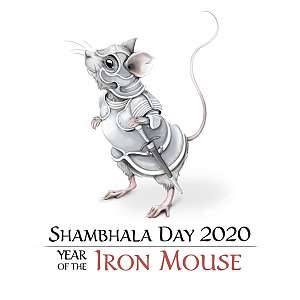 Shambhala Day Live Broadcast: The Year of the Iron Mouse
Cheerful Shambhala Day
Shambhala Day marks the beginning of the New Year, which is one of the most important days of the Shambhala tradition. Based on the traditional Tibetan New Year's celebration of Losar, the day is calculated astrologically according to the Tibetan lunar calendar, and changes every year to coincide with the annual lunar cycles. This year, Shambhala Day falls on February 24th, as we begin the year of the Iron Mouse.
On the morning of Monday, February 24th, community members are invited to gather to mark the day with practice and viewing of a live broadcast, which will include joining together in worldwide group practice, sharing Shambhala culture, and greetings from throughout our worldwide community.
We will celebrate in full as a community on Saturday, February 29th with a replay of the broadcast from Monday, gratitude and acknowledgments, an astrological reading, and community updates, followed by a celebratory lunch.
Shambhala Day continues to be an important time to gather and feel what brings us together and keeps us together as a community. Everyone in the extended community, friends and family are welcome.
Monday, February 24th
8:30 AM Shambhala Sadhana
9:30 AM Light Breakfast
10:00 AM Shambhala Day Broadcast


Everyone in the extended community, friends and family are welcome. Please kindly RSVP (by registering below) so we can have enough food and space to accommodate everyone.


Help Wanted: We're looking or a few volunteers to help set up and take down the space for this event. Please reach out to Ladan at [email protected] if you're able to lend a hand. Thank you!
Location: Seattle Shambhala Center, 3107 E Harrison St, Seattle. We remain considerate of our neighbors in regards to parking. If you are driving, please do not park on 31st. Thank you.
Questions? Contact Ladan Yalzadeh at [email protected]