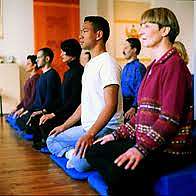 Open Community Practice with talk by visiting teacher David Shapiro
All are welcome, regardless of experience and free of charge! Thursday night is a gathering for newcomers and long time practitioners to experience a variety of what our center has to offer.
Schedule:
6:30 – 7:30 pm: Sitting meditation, with a period of walking meditation.
7:30 – 8:30 pm: Contemplative Activity or Dharma Talk
Seattle Shambhala welcomes David Shapiro, author of "Gesar of Ling: A Bardic Tale, as a visiting speaker at Thursday Night Open House on January 16th, 2020. The book translates the epic tale of Gesar, whose magic is palpable in Shambhala culture; it was recently reviewed in the Chronicles of Chogyam Trungpa.
The story of Gesar is an epic tale of the Tibetan plateau, long sung by bards. As described on the book's website, "King Gesar was not an ordinary human being but rather a manifestation of the enlightened activity of all the buddhas, brought forth by the strength of their great compassion at a time of despair in the land of Tibet."
The stories of his life were compiled as woodblocks in the late nineteenth century by a close student of Ju Mipham Rinpoche (1846-1912). The first three chapters (volumes) were subsequently translated by Robin Kornman, Sangye Khandro, and Lama Chonam, and published in a meld of prose and poetry by Shambhala Publications in 2012.

Free meditation instruction is offered for new visitors, every Thursday at 6:30 pm. It begins in a separate room so you can ask questions before joining the main group.
Everyone is welcome to arrive and depart according to their own schedule.
Further information is available on our Open House and Getting Started pages.


Prerequisites: None (open to everyone).
Location: Seattle Shambhala Center, 3107 E Harrison St, Seattle.
Questions? Contact us at [email protected].