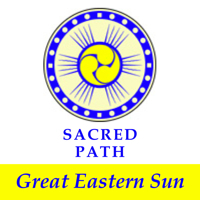 Great Eastern Sun
with Rachel DeMotts
This weekend retreat teaches how to see the Great Eastern Sun, the primordial energy and brilliance that is the basis of all that exists, and emphasizes the living context for building a sane society.
This is the first weekend retreat of the Way of Shambhala Sacred Path series.
Prerequisite: Wisdom in Everyday Life and Shambhala Training Level V. Strongly recommended additional preparation: Rigden weekend retreat and Basic Goodness series.
Suggested Reading: Shambhala: The Sacred Path of the Warrior, by Chogyam Trungpa.
Location: Seattle Shambhala Center, 3107 E Harrison St, Seattle.
Our Generosity Policy: We have a generosity policy to make our offerings available to all who wish to participate. If the program price is an obstacle for you, please consider what works for you, and offer as much of the program fee as you can. For those who can offer more than the program price, we have a "patron price". Your generosity in offering the patron price helps cover the costs for others who are not able to pay the full price.
Registration: When registering, you'll have the opportunity to pay online through PayPal (note that you can use a credit or debit card, a PayPal account is not required). If you can pay online at the time of registration, please do so -- it greatly simplifies things for us. In the event a program fills up, we cannot hold your space in the program unless we've received your payment, or unless you've contacted us to make other arrangements. For further details, see our Program Policies and FAQs page.
Questions? Please contact Sydney Munger, [email protected].