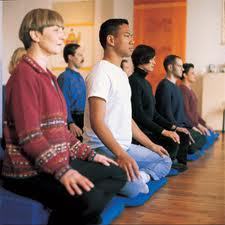 Meditation (Tacoma Shambhala)
On Tuesday evenings, Shambhala Center offers an Open House evening at the Good Karma Center for Joy. This includes an introduction to meditation practice, and is perfect for new and experienced meditators. Meditation instruction will be provided. All are welcome. For more details and information, please see: Tacoma Shambhala.
Schedule:
6:45 PM: Brief meditation instructions for first time meditators
7:00 – 8:00: Meditation
8:00 – 8:30: Talk and discussion
8:30 - 8:45: Social time
Every first Tuesday of the month we offer "Meditation 101" where detailed meditation instruction will be given to the entire group, including question and answers. This is perfect for those who are new to meditation and for first time visitors.
Suggested donation: $10 for the evening
Prerequisites: None, open to everyone, and no previous experience with meditation is necessary.
Location: Good Karma Center for Joy, 711 St. Helens Ave , door code: 1102*
Questions? Contact Stacy Near at [email protected], phone: 206.305.9657