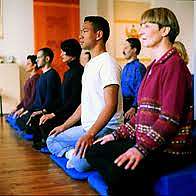 Open Community Practice
All are welcome, regardless of experience and free of charge! Thursday night is a gathering for newcomers and long time practitioners to experience a variety of what our center has to offer.
Schedule:
6:30 – 7:30 pm: Sitting meditation, with a period of walking meditation.
7:30 – 8:30 pm: Contemplative Activity or Dharma Talk

Free meditation instruction is offered for new visitors, every Thursday at 6:30 pm. It begins in a separate room so you can ask questions before joining the main group.
Everyone is welcome to arrive and depart according to their own schedule.
Further information is available on our Open House and Getting Started pages.


Prerequisites: None (open to everyone).
Location: Seattle Shambhala Center, 3107 E Harrison St, Seattle.
Questions? Contact us at [email protected].